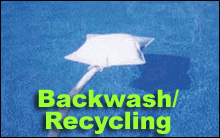 The Slime Bag™
Filters out fine particles that cause the water to appear cloudy.

Removes 98% of particles 1 micron

and above.

The Slime Bag™
Will allow you to completely clean your pool water without dumping water and money down the drain.

Filtration is the Key! The Slime Bag™ does what sand, D.E. and cartridges can't. It filters to 1 micron while diminishing the need for flocculants and clarifiers (CHEMICALS!!!).

Thousands already sold through out the United States, Canada, Spain, Austria, Austrailia, and the Dominican Republic!

Pool owners

Do you constantly add chemicals to "clear up" a cloudy pool?
Are you tired of wasting water? This is especially important in drought-prone areas.
Do you spend more time maintaining your pool than swimming in it?
If YES then the Slime Bag™ is the answer!