Blow-up Pools Slime Bag™
---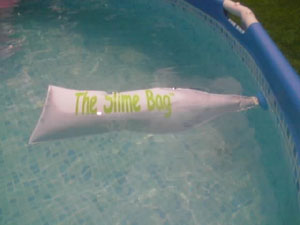 New Slime Bag Application
Over the past few years the market has seen many new "blow-up" pools (i.e. Intex).
The majority of our customers have problems with the filtration package in that the "paper" cartridges just don't filter adequately. Now, you have a solution!
The polishing Slime Bag, Model # SB1.5012, 12" x 30" can be adapted to these pools quickly and efficiently.
Instructions: (make sure pump is off)
Plug the outlet hole from the discharge of the filter cartridge located in the pool wall (Plug is usually supplied with the pool.)

Disconnect the outlet hose from the filter housing and clamp the Polishing Slime Bag to the end of the hose with the clamp included with the Slime Bag.

Now place Slime Bag and hose over the top of the pool and in water. Turn pump on and allow to recirculate.
Pool will clear up in 2-4 hours! (Leave existing cartridge in place to act as a prefilter to the Slime Bag.) Slime Bag can be removed by unclamping when guests are in the pool and clamped back on when filtering is in progress.
Cleanerpools.net Inc. sold over 1,000 last year!
---
Testimonials
The Fort Dodge Iowa area mines gypsum and apparently we have a lot of minerals in the water so trying to keep the pool in balance and crystal clear is hard and very time consuming.

The Intex Pool filter system just isn't enough for our water to keep the water crystal clear.

Last year it was very-very hard to get clear water I sorta gave up and just lived with cloudy water or used a lot of water clarifying chemicals to get it clear - this year we don't have to use these water clarifying chemicals any more thanks to the Slimebag.

The follow-up service I received from this company is incredible! They are very prompt and helpful and I received numerous follow-up calls from them to ensure that the Slimebag worked for us. You just don't find this kind of service these days.

I was skeptical to buy the slimebag because I knew nothing about the company and just started searching the net looking to buy filters in bulk for my Intex pool. But I thought I'd take a chance and emailed them. Shortly afterwards I had a return email and a phone call. I am very very impressed with this company! I am recommending the slimebag to our local pool supplier and to all my friends with pools or spas. You won't be disappointed and if you are having problems, they seem to stand behind their product 100%.

In closing, since using the slimebag my other chemicals seem to stay right where they need to be whereas last year I struggled trying to keep everything in balance - not to mention struggled with on-going cloudy water.
The Lukes - Iowa
Hello...

I ordered a slimebag last year and I have never made a better decision in my life!!! I just forgot what size I ordered and I need a new one! My pool is an Entex pool and it holds about 3000 gallons. Can you tell me what size I need? I'm not sure if you keep a record of what people have ordered in the past. My name is Michelle Gray. Thank you so much for your help and your WONDERUL product!!!
Michelle Gray
Deale, Maryland