Slime Bag Products
---
12"x30" -- Polishing Bag™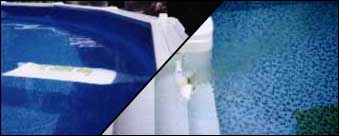 Look what your sand filter is missing!

Polishing-filters fine dirt and dead algae your sand, D.E. filters, and cartridge filters bypass. Keeps your pool crystal clear and clean.
(Flow rates up to 40GPM)
Click here to order
---
18"x30" -- Vacuum/X-tra Polishing Bag™

Your water passes through the sand filter which traps particles at about 50 microns.
Then the water is polished by the SlimeBag™ to about 1 micron which removes fine particulate matter.
Just to give you an idea of how small that is, a grain of sand is about 100 microns 1 micron is smaller than a red blood cell.
(Flow rates up to 60GPM)
Click here to order
---
9"x30" -- Filler'-Up Bag™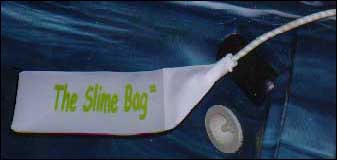 Filters out suspended iron and fine dirt time you fill or top off your pool.
Whenever you fill your pool, the Filler'-Up Bag™ is an absolute necessity. Many surface and well supplied water systems contain fine particles of dirt and iron that settle on the bottom of your pool. These particles are almost impossible to remove with conventional pool vacuuming systems.
(Flow rates up to 20GPM)
Click here to order
---
30"x36" -- Backwash/DE Slime Bag™

The Backwash/DE Slime Bag™ filters dead algae and dirt allowing all water to be returned to pool filtered and sparkling. Save on water and chemical costs!
We recommend the first 30 seconds of Backwash water be sent to drain before attaching the SlimeBag™.
Filters backwash water to 1 micron

Filters DE for easy disposal

Alligator clamp included

Maximum flow rate 125 gallons per minute at 50 psi



Click here to order
---
30"x48" -- Jumbo Slime Bag™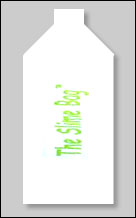 Jumbo Slime Bag™ - for filling pools from water sources containing high levels of suspended particles such as:
tanker trucks
lakes
rivers
ponds
hydrants
and more
(Flow rates up to 250GPM)
Click here to order
---
24"x36" -- Bye Guanide Bag™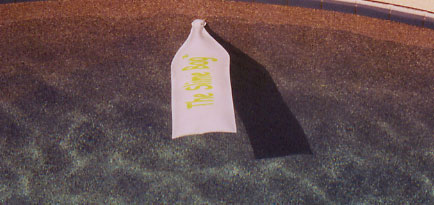 The Bye Guanide Slime Bag™ filters to 1/2 micron and will remove water molds associated with NON-CHLORINE sanitizers. (Biguanides I.E. Baquacil™) It also removes algae, pollen and air-borne particulate.
24"x36"
Maximum flow rate 40 gallons per minute at 50 psi
NON CLEANABLE
15 psig pressure differential before replacement is necessary
Click here to order