The Slime Bag™ Saves The Day for Oklahoma Family
---
7/18/2002
Dave Privitera
Cleanerpools.net
Dear Dave,
Before

Click on image for larger size

What a lifesaver the Slimebag has been for my family and I. We bought our pool without really thinking about the fact that we live in the country and get our water from a well. I figured if the well wouldn't fill it, I would just have water hauled in by someone. So we installed the pool and started filling it. I didn't realize that by taking that much volume (18000 gallons) of water from the well, it would loosen up all the silt and make the water very dirty. Halfway through filling it up, I called to see about having someone haul in water for us. It would cost me about $750.00 to get that, so back to the well we go. (We can always use the sand filter to clean it up, right!!)

The well kept up just fine and when it was full enough, I turned on the sand filter and waited to see the clear water. Two days later and I was still waiting. I have since found out that the sand filter will only filter out dirt and stuff to about 50 microns. The silt that was in solution in the water must be a lot smaller than that, because on day 3, it was still as dirty as ever. (insert panic here) I guess I failed to mention that all of this project was to prepare for my sons 4th birthday party, in which about 35 people were coming for, and was fast approaching. I had wasted an entire week with flock and other chemicals to no avail, not to mention, wasting water while vacuuming to waste!!!

Now in a frenzy, I got online to see if anyone had encountered this type of problem before!! After reading about 20 web pages on the subject of silt and wells and anything else you can imagine, I saw something called a SLIMEBAG from cleanerpools.net. So I went there and read about all the wonderful things it could do and read the testimonials. BUT, I was a little skeptical. You never know if you can believe what you read on the internet. So on Friday, I called you at the number listed. Little did I know I would get right through to you. You told me others had similar problems, and that these bags really work. You also said, "If I had not wasted my time on the other stuff and bought the Fill'er up bag to begin with, I would have saved a lot of time." You must have done something right, because you convinced me to buy the Fill'er up and 2 Vacuum/X-tra Polishing bags. I told you the urgency of the situation and you said that UPS had just left and you would see if you could get it out by U.S.P.S. Low and behold, I received it on Monday morning the 8th and that evening I hooked the bag up and started filtering.

After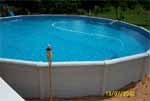 Click on image for larger size

I could not believe how quickly it started looking better. By the 10th, I could see the bottom of the pool and the water looked pretty clear.

Just in time for the party on the 13th, everything came together. The decks were built, and the pool was crystal clear.

The party was a great success and everyone commented on how great the water was. I can't thank you enough. The SLIMEBAG is everything you said it would be and I am a hero with the family!!

Thanks again for saving our party, and for the cleanest pool I have ever seen.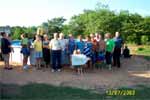 Click on image for larger size
Sincerely,
David T.
And Family
Stillwater, OK.